Craiglist, Take 2
// August 21st, 2009 // Brad's Life
Lots of great things going on in life, but this blog seems to revolve around my Craigslist encounters lately.
We wanted to clean up the 2nd bedroom (aka the official headquarters of BlueFuego) to make a little more room in it. Actually, it wasn't quite like that. It went more like this:
Sunday: Jen says "I wonder if we could have more room in here if we re-arranged, or got rid of one of our two desktop PC's and just used one desk."
Monday: Jen leaves for work, and comes home to a re-arranged room, a missing computer, a desk in the middle of the room, and lots of stuff boxed up and taken to the garage.
Tuesday:Jen comes home to $180 on the table, a missing desk, router and monitor.
Give me an idea and I'll usually run with it.
SO, long story short, I sold my computer monitor and decided to meet the guy in the Fry's parking lot. Personal safety win! He ended up being 90 FREEKING MINUTES LATE, so I was naturally bored. He had asked to see the monitor in action to ensure it worked, so I brought my laptop. And I brought my Verizon MiFi so I could get an internet signal and get some work done while I waited (only expecting it to be 15-30 minutes, not 90.)
At some point, I decided…. Let's uStream it.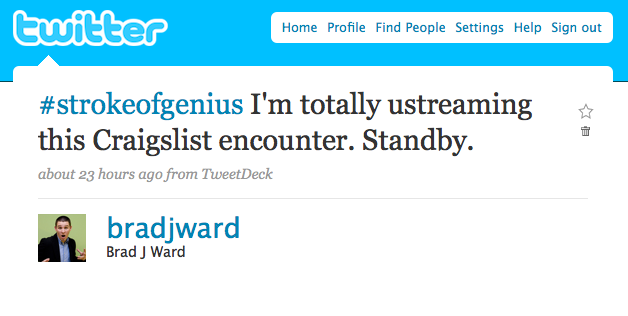 So I fire up uStream and tell everyone on Twitter what's about to go down.
And people started watching.
How many?
186 viewers came through in the 75 minutes I was streaming. Combined, they watched 32 hrs & 54 mins of the stream.
And this is what they all waited for…. The Transaction. (PS – I definitely brought along the router I was trying to sell and upsold him the monitor AND router. Ohhh yeah!) And while it might have not as been as funny as last month when someone from Craigslist drove through my yard, it was still quality entertainment.
Leave a Reply